HSC Academy Program
What is it? Academy soccer is a player development system for youth soccer players in the pre-competitive age groups. It allows focus on the long-term development of individual players without having to focus on short-term results of a team. It helps to bridge the gap between Recreational soccer and Competitive soccer.
Is academy right for my child? Academy soccer is open to all players in the U7 through U10 age groups, and is perfect for players thinking of trying out for a Competitive team in the future.
How are teams organized? Academy soccer is designed to promote player development. Players are grouped according to their current technical ability. This allows players to develop at their own pace. Players will participate alongside teammates of a similar skill level.
What is the Academy format of play? U7 and U8 play 7v7, including a keeper. U9 and U10 play 8v8, including a keeper.
Is academy too much, too early? The focus of academy soccer is development of the individual player. Our goal is to create a challenging and nurturing environment designed to promote individual player development. Winning is not the priority.
Who will we play? Other Academy teams from OKC, Norman, Midwest City, Shawnee and Edmond.
Is academy soccer expensive? Registration fees for Academy are only $5 higher than recreational soccer. There will be travel to other clubs in the greater OKC area so plan on spending more for gasoline.
Academy Fees Registration Fee: $50 for U7 and U8; $55 for U9 and U10. For more information, contact David Eden at 391-6277 or click here&nbsp to email him.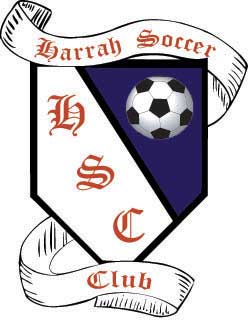 Harrah Soccer Club
PO Box 804
Harrah, Oklahoma 73045 USA