HSC in action
Pics from Fall 2006
| | | | | | | | | |
| --- | --- | --- | --- | --- | --- | --- | --- | --- |
| | | | | | | | | |
| | | | | | |
| --- | --- | --- | --- | --- | --- |
| | | | | | |
| | | | | | | | | | | | | | |
| --- | --- | --- | --- | --- | --- | --- | --- | --- | --- | --- | --- | --- | --- |
| | | | | | | | | | | | | | |
2003 pics
1970s pics!
A tremendous "Thank You!" to Shauny Cooley for providing these glimpses into HSC history...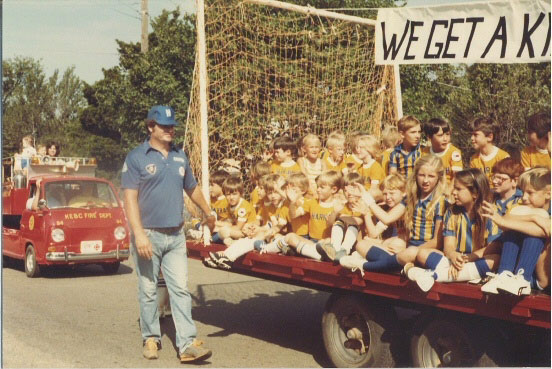 This is Shauny's late father, Ples Cooley, escorting a HSC float in a Harrah Day parade in the late 1970s. Ples was one of the first HSC coaches. His Bluejays took 2nd in The Day of Champions a few years later.
&nbsp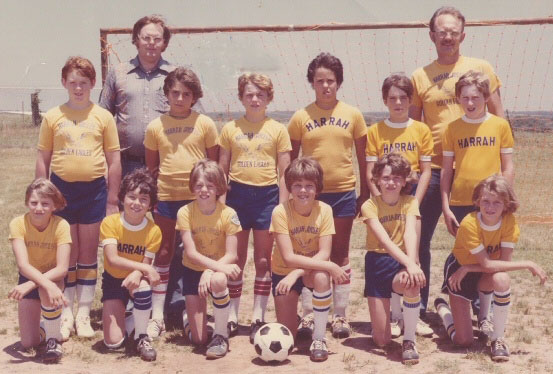 This is the Harrah Jaycees Golden Eagles, quite possible from HSC's very first season. Front row, from left to right: Tracy Lankford, Brett Tillery, David Hood, Mike Northrup, Shauny Cooley, Danny Dilbeck. Second row, from left to right: Chuck Weaver, Coach Eddie Swan, Doug Ledet, David Eden, Jerry Sinor, Kevin Ellis, Coach Hood, Rick Mitchell. Danny Dilbeck and David Eden currently have children playing in HSC.
&nbsp
This is what Shauny has to say about soccer culture: "In other countries, having a soccer ball in your suitcase is like having a passkey to friendship and social integration. Soccer has served me well my entire life. In Honduras, the kids would wait at my door in the afternoons for me to get home so that they could borrow my ball. They had a rock covered about 500 times with duct tape that they played with before I was there. If I had the money, I'd send soccer balls to tiny villages all over the world." Just a game? I don't think so!
Other pics are welcome - just send them to the Webmaster below.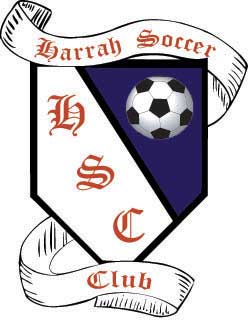 Harrah Soccer Club
PO Box 804
Harrah, Oklahoma 73045 USA